Feeling of Spring 🥦 そろそろ春
As soon as the British Summer Time starts at the end of March, I can begin to imagine spring around the corner!
The air is still quite crisp in the mornings and evenings where I live, but we sometimes enjoy an amazing bright sunlight during the day 🌞
Plants also know it's time for them to grow, and as a keen garden farm beginner, I would love to share a glimpse of my produce this spring.
3月末にイギリスの夏時間が始まるとそろそろ春だなと思えます。
私の住む所では朝晩まだ冷えますが、昼間は日光を満喫できる日もあります。
植物たちも成長し始めているので、家庭菜園初心者の私からこの春の収穫をご紹介させてください🌷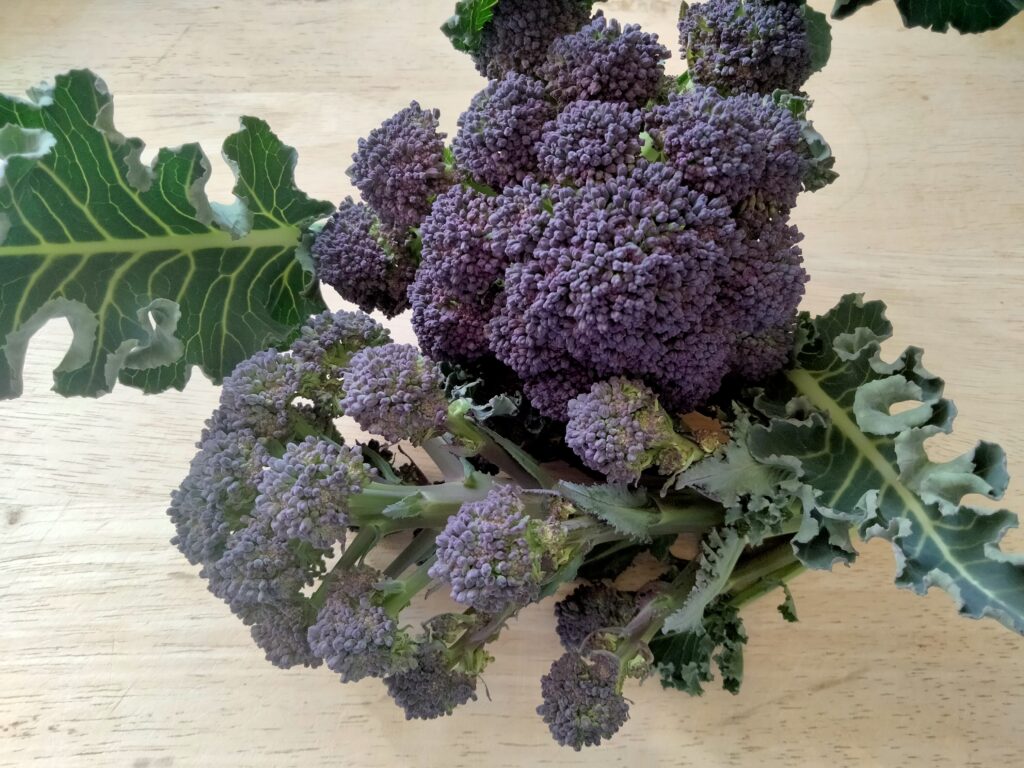 First of all, the purple sprouting broccoli.
This was my first attempt and two have survived.
They were planted last spring, so it has taken them a whole year to grow this big!
They turn green when cooked and taste lovely and sweet.
まずは紫ブロッコリ。
今回初挑戦でしたが、2株が無事育ちました。
去年の春植えたので、まるまる1年かかりました!
調理すると緑になって、甘くておいしいです。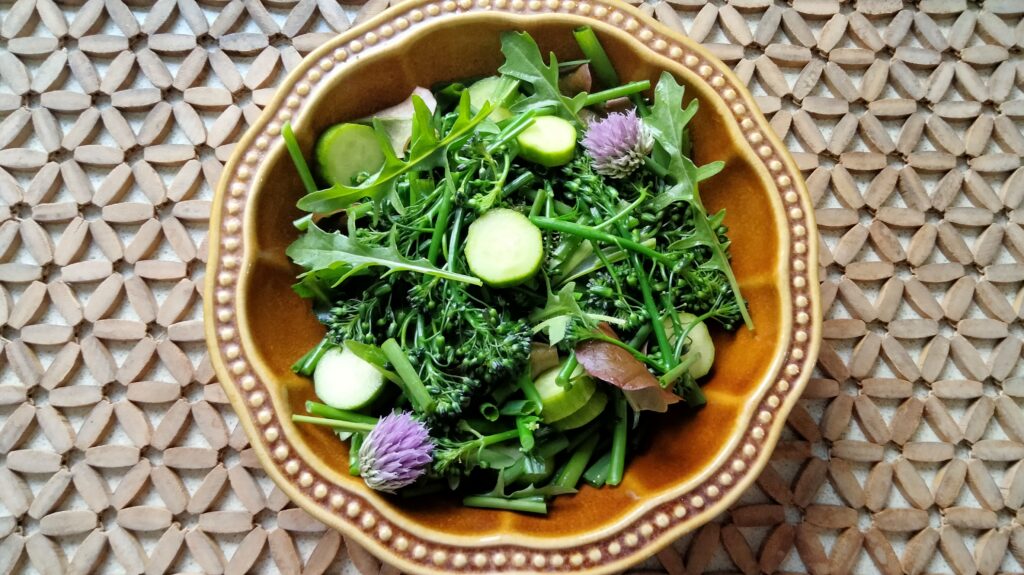 The below picture is of what I call "the kale trio".
I didn't know what to do with the kale plants which had overwintered so I just left them, then they started to flower.
So I put them in a vase and cooked the buds and leaves.
Not everyone in the family was excited about eating them 😂
We all agree though that there's something nice about growing our own food.
下の写真は「ケール3点セット」です。
ケールは冬越ししたもので、どうしたらいいか分からずそのままにしていたら花が咲き始めました。
なのでお花は花瓶に飾り、つぼみと葉っぱを調理しました。
食べた家族の感想はマチマチ😆
とはいえ家庭菜園っていいねとは言ってます。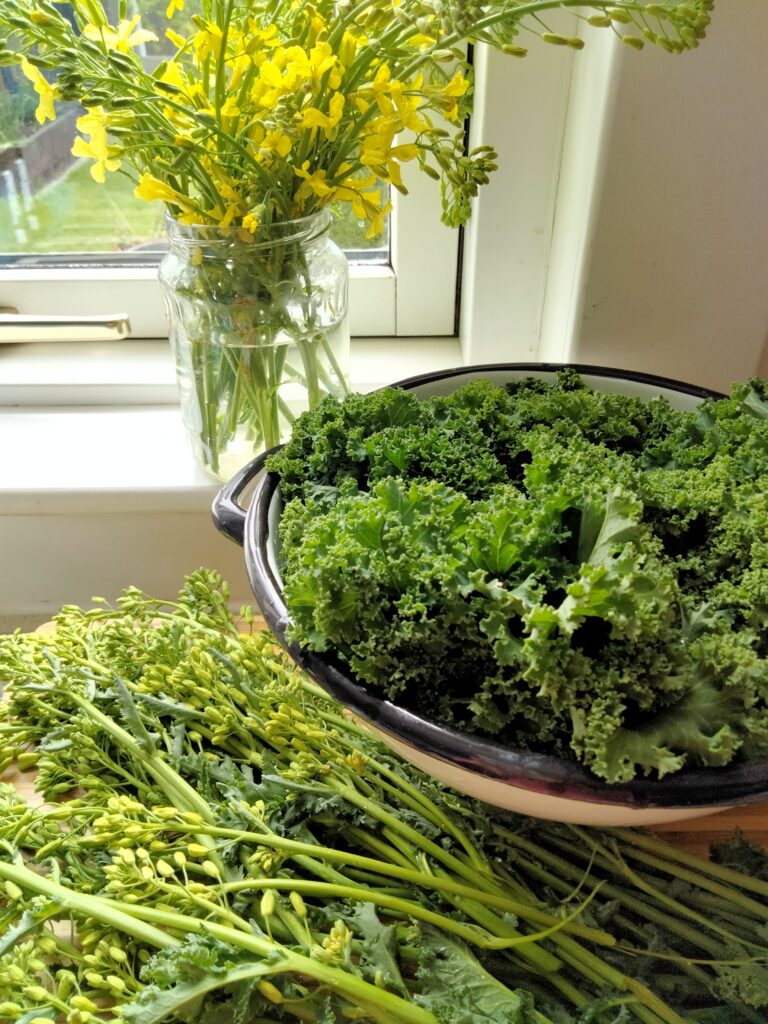 And lastly, some fun looking radishes!!
そして最後に、見た目も楽しいラディッシュたち。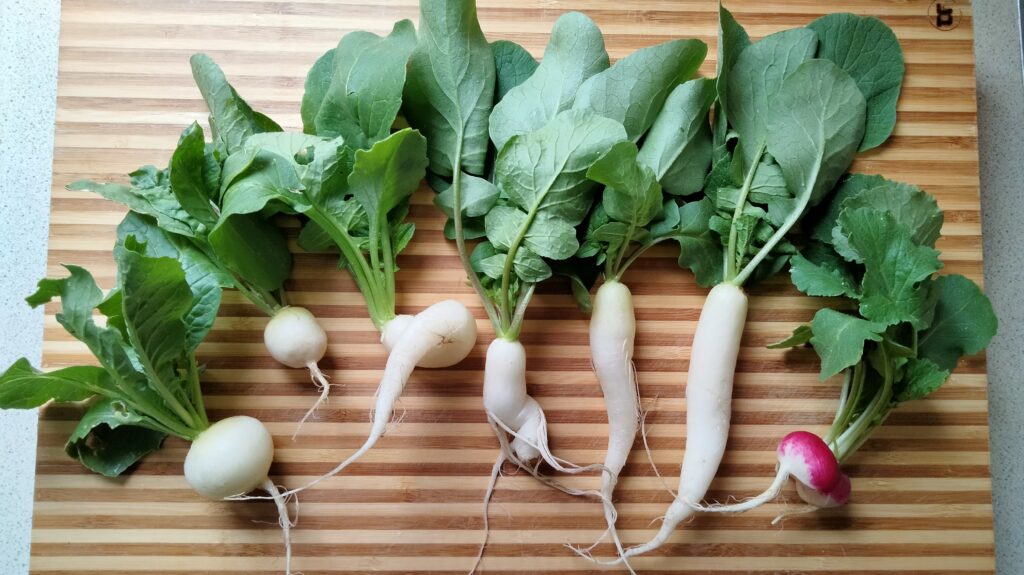 crisp (天候などが)涼しい、さわやかな
Crisp air is cold, dry and fresh

https://dictionary.cambridge.org/dictionary/english/crisp