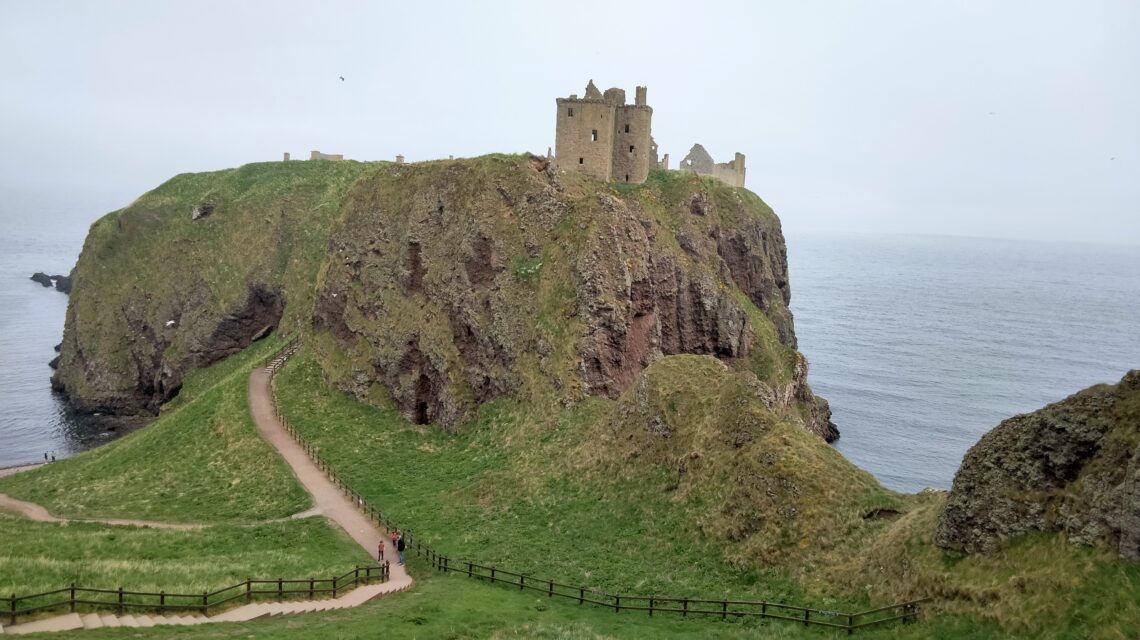 Discoveries On the Way Home 🏰 帰り道の出会い
We started our journey back from the short break by visiting a neighbouring town of Macduff 🚢 (The first part of this trip is on the previous post.)
Our initial plan was to have lunch there, but as soon as we got there we realised all the shops were closed due to it being the weekend, so we took a walk to the lighthouse instead.
帰りはまずお隣のマクダフという町に寄りました。(旅の前半についてはこの前の投稿をご覧ください ♪)
そこでお昼を食べようと思ったのですが、週末で着いてすぐどこのお店も閉まっていると分かったので、代わりに灯台まで散歩しました。
Although the lighthouse could be seen right on the opposite of where we parked, there was no bridge or any other direct route and it took us almost an hour to actually get there and back so we had a good exercise!
灯台は車を止めた真向かいにあったのですが直接渡ることはできず、行き帰りで1時間ほどかかったのでいい運動になりました!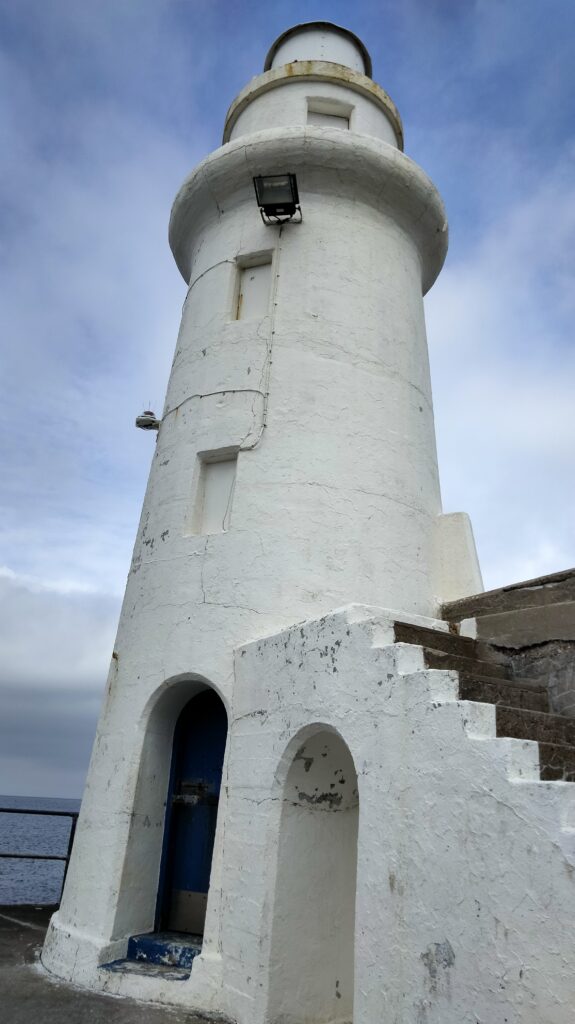 It was nice and peaceful.
静かで穏やかでした。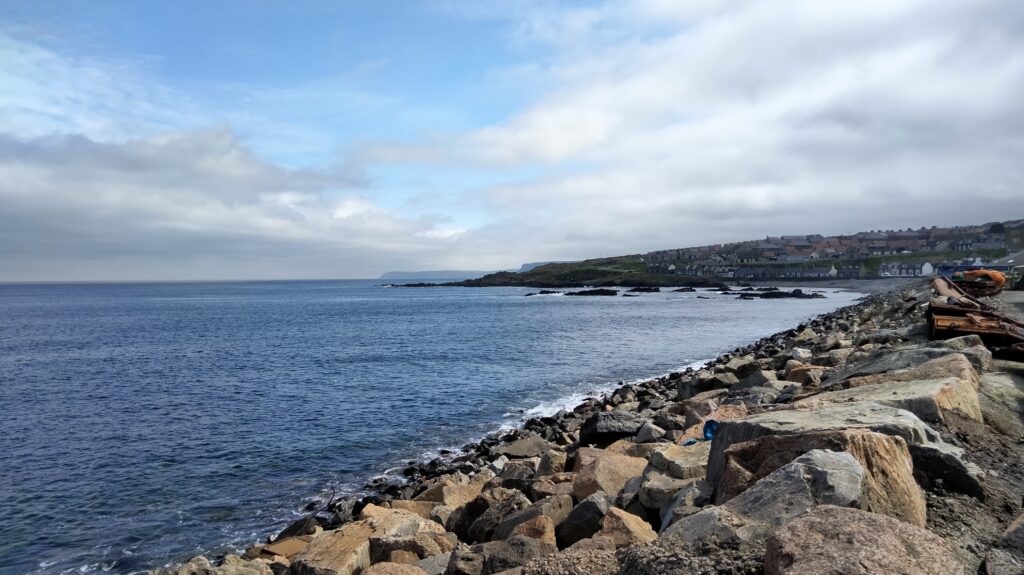 And thanks to the internet, we found a café called Hoodles Playbarn to have our lunch somewhere else 🥪
There was a good choice of menu and everything was nicely presented.
It also had a soft play area and a courtyard where children could play while parents enjoyed eating, and the layout was well thought out for those without young ones too.
インターネットのおかげで、別の所にあるフードルズ・プレイバーンというカフェを見つけました。
メニューの種類は豊富で、どれもきれいに陳列されてました🍰
大人が食事を楽しむ間に子どもたちが遊べるソフト・プレイや中庭もあり、子どもがいない客層にも配慮した作りになっていました。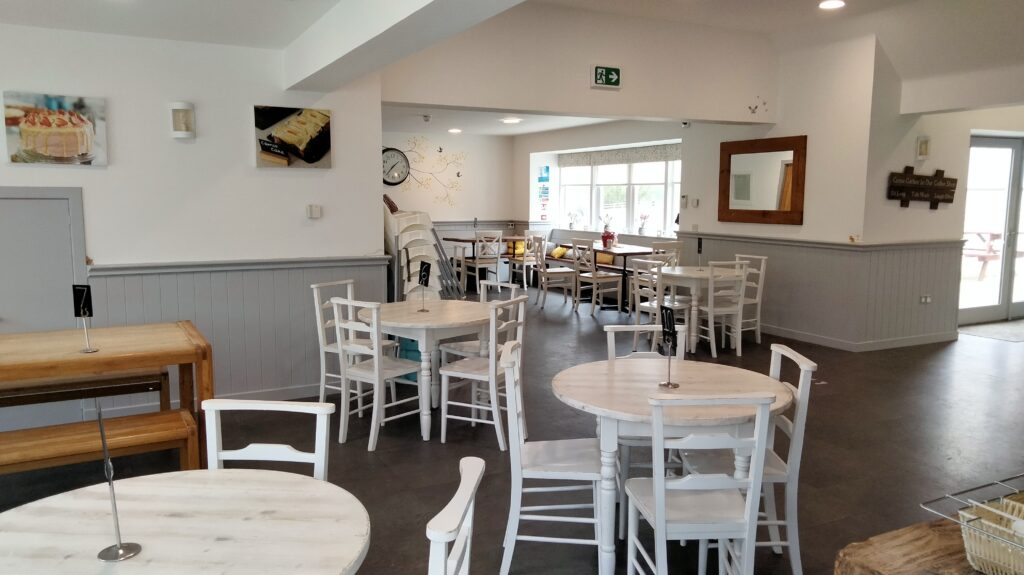 I'd had soup and a roll the day before so wanted to go for a jacket potato for a change (both of which are what I tend to prefer to bread), but they were all sold out. So instead I had a toastie.
The photo is only a snapshot 😄
前日にスープとパンを食べたのでジャケットポテトにしよう(通常はパンよりこの2点が好きです)と思ったら売り切れとのことで、トースティにしました。
スナップ写真で失礼します📸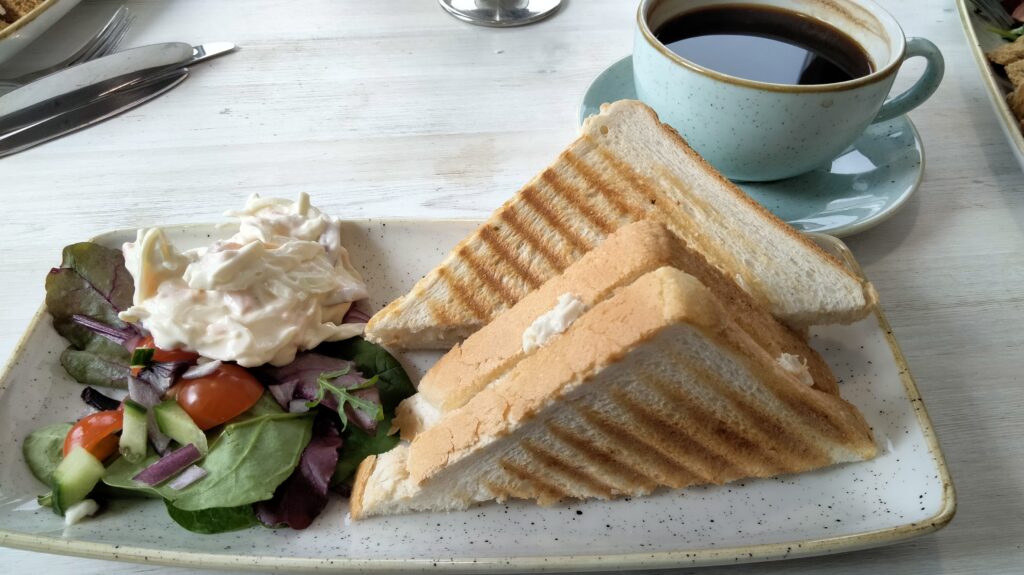 After that, we decided to stop at Dunnottar Castle as well.
It started to become misty by the time we got there, but the place was quite busy with visitors from the USA and other parts of the world 🚌
Castles are often built in the most unimaginable places, and this one didn't disappoint.
Apparently it has featured in many films and shows over the past few years.
As we approached this ruined medieval fortress, the ravine started to appear with all sorts of things going on like a little waterfall flowing down and seabirds flying around.
その後、ダノター城(跡)にも寄ることにしました。
着く頃にはやや霧がかっていたのですが、それでもアメリカやその他も世界各地からの観光客も多くけっこう混んでいました。
お城は想像もしないような場所に建てられてることが多いですがこのお城も例外ではなかったです。
これまでにさまざまな映画やテレビ番組に登場しているようです🎬
廃墟となったこの中世の要塞に近づくにつれ、渓谷が現れ、滝が流れていたり海鳥が飛んだりしていました。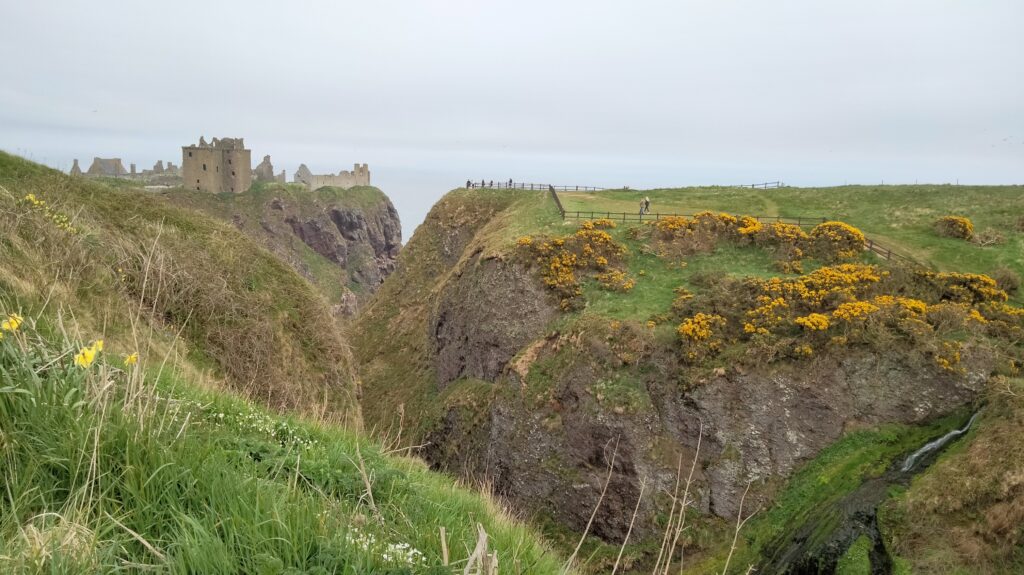 Then we could choose to go down a path to see the buildings from a different angle, with the North Sea in the background.
そこから下へ向かう分かれ道を通って、北海を背景に別の角度から建物を見れる位置に行けました。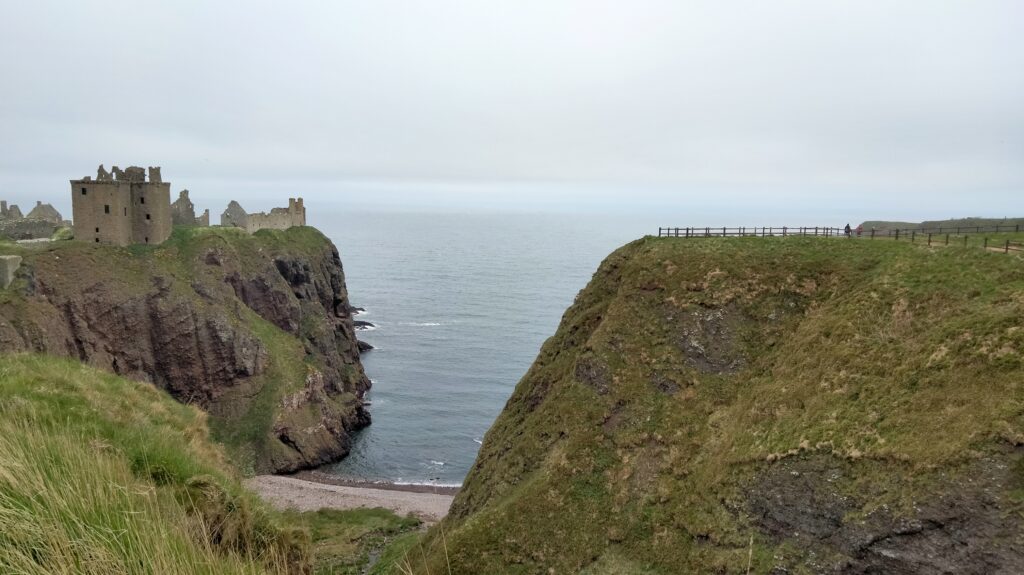 Back on the original path and as we carried on, we realised the whole thing was built on top of one rocky headland.
It might have looked even more amazing with the blue sky, but it still was breathtaking and quite realistic too!
We didn't have time to go inside the castle but went down to the beach.
There were some interesting sights such as a cave-like hole and seabirds nesting in differente parts of the cliff.
最初の道に戻ってさらに進んでいくと、全体が1つの岩山の上に建てられているのが見え始めました。
青空だったらもっと素晴らしかったでしょうが、そうでなくても息をのむような光景でした。それにけっこう現実的だと思います😂
時間の関係でお城の中には入りませんでしたが、浜辺まで下りてみました。
洞窟のような穴があったり、そびえ立つ崖のところどころに海鳥が巣を作っていたり、といった様子も印象的でした。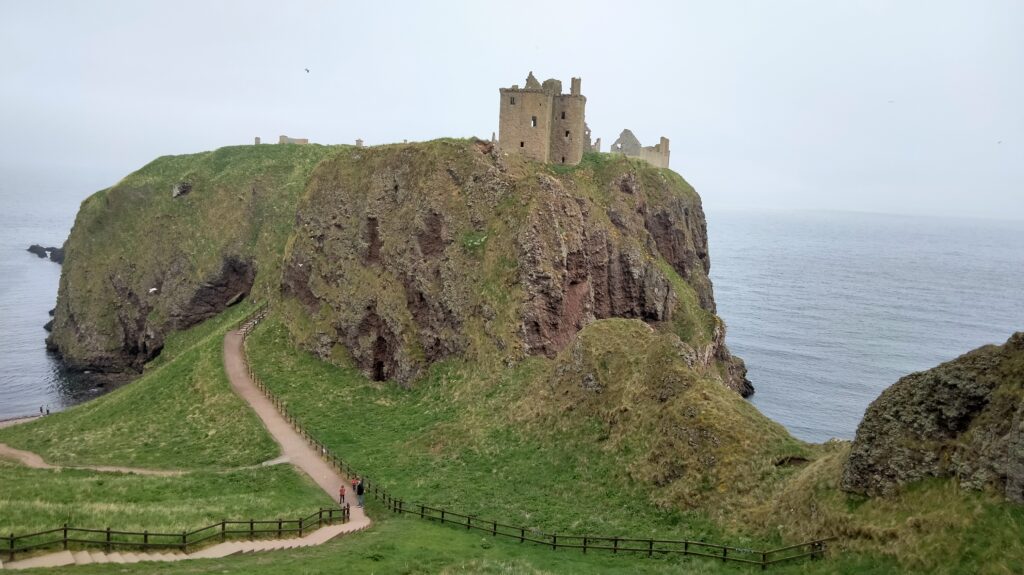 This holiday was rather short and slightly rushed, but we still enjoyed some relaxing time.
We visited four different beaches and a harbour, we got to see a wild seal and dolphins in their habitat, and we saw a castle with a wow factor ✨
Looking forward to another adventure in the future!
今回の旅行は短めでちょっと忙しかったですが、それでも休憩になりました。
ビーチ4か所と港に行ったり、普通に暮らす野生のアザラシやイルカ、すごいお城も見れました💖
今後の冒険も楽しみです!